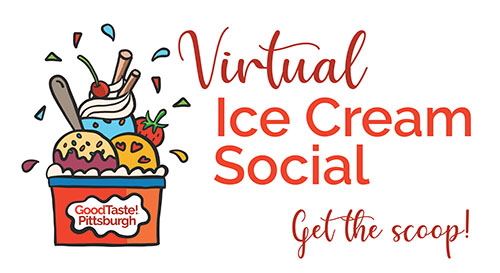 We went VIRTUAL
Sunday, August 23, 2020
Starting at 6pm
A celebration of everything ice cream, A Virtual Ice Cream Social will feature five of Pittsburgh's favorite ice cream experts who will (soft) serve demos, tips and recipes straight from their professional kitchens.
If you quake for a good shake, churn for chocolate or want the scoop on what's new, you'll melt for this yummy extravaganza of decadent delights. The all-ages show is produced by GoodTaste! Pittsburgh, the region's premiere producer of culinary shows.
Jessica Iacullo, author of the popular Pittsburgh blog Hungry Grl Big City will host this new twist on food festivals. The event will feature tasty ice cream history, amazing recipe tricks, an eye-popping juggling performance and lots of fun.
Each ticket includes a "We Got The Scoop Passport" with free and special offers from local ice cream merchants.
Presenters will include:


• Jen Gregg, from Isaly's, will demonstrate how to make Klondikes at home.

• Anna Crucitt, from Mercurio's Pizza and Gelato, will dish on all things gelato.

• Kayden Young from NatuRoll Creamery, will show why this international technique of creating ice cream is such a treat.

• Sharon Caroll, from Oakmont Olive Oil, will create unconventional toppings.

• Amanda Iwaniec, from Carnegie Science Center, will demonstrate the science behind ice cream.